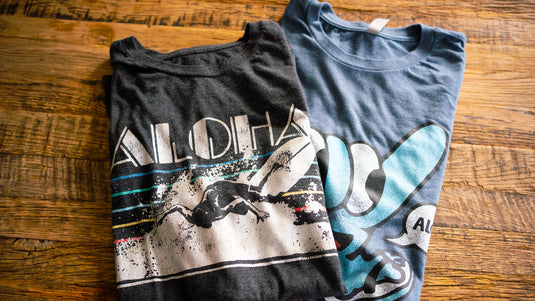 Tri-Blend Tees
Our classic tri-blend crew t-shirt. A perfect mix of Polyester, Cotton, and Rayon.
Our classic Tri-Blend tee that you all know and love. Fit is the same as it's always been, slightly more fitted than your average tee. Excellent drape and super soft. The material is 50/25/25 Polyester/Cotton/Rayon respectively.
Shop now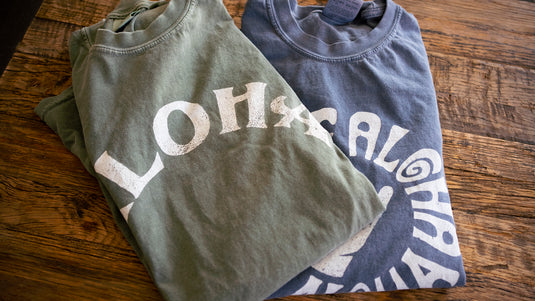 Cotton Garment Dyed Tees
New comfy cotton tees that add a little more color to the mix.
A new body style for our loyal customers. As well as offering tri-blend tees like we always have, this is a Garment Dyed, 100% Cotton Tee. A slightly larger fit than you're used to from us but a great vehicle for us to spread our message of Aloha.
Shop now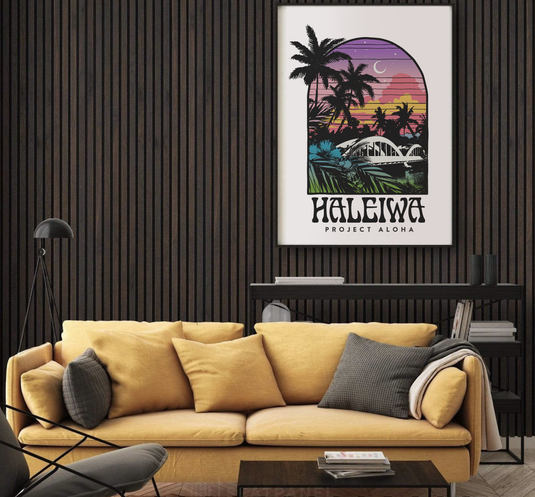 ALOHA WALL ART
Different sized posters in a matte finish.
Well we've finally offering wall art. We will be adding prints every now and again so you can proudly display some Aloha.
Shop now
ABOUT US

Hawaiian artist Michael Paz is the founder and creative director of the island lifestyle brand Project Aloha. Michael started Project Aloha as a way to spread Hawaii's welcoming spirit with the rest of the world.

Michael's passion for art started at a young age.  Growing up in Wahiawa on the island of Oahu in Hawaii put him in the middle of the surf industry. He worked on a screen printing press while still in high school printing for many companies from the Hawaiian surf industry. He grew tired of printing everybody else's shirts so Michael started printing his own t-shirts when he created his own brand called North Shore Underground. Over the years his creative ability attracted Michael Tomson from Gotcha and he soon became the art director of both Gotcha and MCD men's divisions. It didn't take long for Michael to get the attention of Abercrombie & Fitch. They were starting a new west coast inspired brand and Michael was one of five other graphic designers to help launch Hollister. Hollister leaned heavily on Michael's roots in the surf industry and within a few years he would become the art director designing tees that went into over 500 stores.

All of these positions have kept Michael physically apart from his island home but the strong connection never faded.  While opportunity and adventure took him away from Hawaii his heart has remained home and he has carried his passion for this special place, people, and culture with him the entire time.  Michael has lived away from home since the mid 90's and needed something that would allow him to be involved in art and get back to his island roots. In 2012 Michael started an art project that would require him to design a new and unique ALOHA design every day for an entire year. He called it Project Aloha.  As the project gained popularity Michael started printing t-shirts, selling them to friends and family but it didn't take long for him to get stores interested in carrying them as well. 

Michael definitely feels that great conversations can be started by what t-shirts people wear. The word Aloha means many different things to the people of Hawaii and Michael wanted a way the spread the positive Aloha spirit to more than just anyone who visited the islands. The Project Aloha t-shirt is great vehicle to channel the Aloha vibes just as a "shaka" would.  You can never have too much Aloha and Michael has a depth of diverse graphic designs influenced by all of his past experience that allows him to share that with a diverse audience.  Simply put Michael's efforts and designs are driven by his passion for ALOHA.